2022 is shaping up to be a big year for Hirsh Precision, and we're excited to announce that our Summer Internship Program is back and better than ever!
Between new projects and an expansion of our capabilities, Hirsh Precision is entering an unprecedented chapter of growth, and our summer interns will play an important role in helping shape our team's development and customers' experience this year.
Who can apply to the Internship Program?
Any student who is actively enrolled in a college program, course, or degree is welcome to apply. While relevant experience is not required for any of the positions, students may find it helpful for their preferred role.
The summer internship program is the perfect opportunity for students who want to:
Learn technical skills
Get hands-on experience
Solve real problems
Help our team grow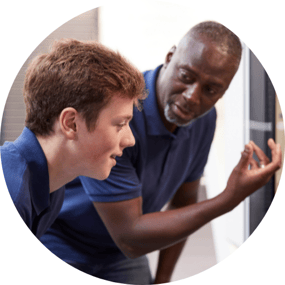 We do ask that students be willing and able to commit to a minimum of 10-12 weeks of work.
Also, please note that some of our internships – depending on the role – will be based out of Boulder, Colorado Springs, and Frederick, Colorado.
Please contact our hiring manager if you have a question about where a particular internship will be based.
How do you apply to the Internship Program?
We have roles for students interested in manufacturing engineering, production, quality assurance (QA), robotics, automation, and chemistry.
Click any of the internship roles below to learn more about a particular position or click here to learn more about the internship program.
Internship Opportunities
If you have any questions about a particular role or the summer internship program, please contact our team today. We can't wait to meet you!