Meet Zach Mullen
Our production team is made up of many talented machinists, but let's meet one in particular: Zach Mullen.
Zach's been with Hirsh for over 2 years now. He started as a production machinist and has progressed to one of our cell leads.
Prior to joining Hirsh, Zach worked several odd jobs, including positions at a riverboat company, a Chinese restaurant, and a logistics company. It was while working at the Chinese restaurant though, that he met Steve Hirsh, our founder and now Director of Engineering.
When Zach first met Steve, he was enrolled in Front Range Community College's precision machining program. Upon learning that he was enrolled in this program, Steve invited Zach to visit Hirsh's manufacturing facility.
Zach's First Impressions of Hirsh Precision
Zach remembers his first impressions of Hirsh very well. As he recalls that initial conversation with Steve and his first tour of Hirsh Precision he said, "Steve was very humble because [as he described it, this] was not a little shop downtown."
When Zach initially toured our Boulder facility, it wasn't just his first look at Hirsh Precision, but also his first look at a machine shop. It was here that he got to see cutting-edge machining and metrology technology in action, not to mention some incredibly complex parts.
"The first thing I wanted to know was 'When can I start?'," said Zach.
Growing as a CNC Machinist at Hirsh
Any time you start a new job, you know it's going to come with challenges, and Zach's experience at Hirsh was no exception to the rule.
One challenge that stands out to Zach was breaking out of the mold of what he thought he knew about machining from school.
"Sometimes in school you learn there's only one way to do something right, but coming into Hirsh I met many different people, all with different and great methods. So, I had to check myself and ask again, what is the best way? and what's the Hirsh way?" said Zach.
Challenges aside, though, Zach has a true passion for machining, and both his talent and his dedication have allowed him to progress quickly since joining the company as a production machinist.
In addition to learning new methods and techniques for machining parts, he also trained on new equipment and learned from our team of highly experienced machinists, many of whom have been with Hirsh anywhere from 15 to 38 years.
"I've never met a person [at Hirsh] who's not willing to help or take time out of their day to show you how to do something or how to do it better – and that was a huge part of my growth," said Zach.
---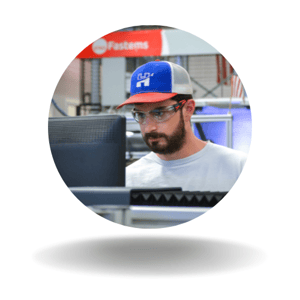 My Favorite Day at Work
"Recently, we got a new part, a tough part with lots of tiny features and microscopic end-mills. One of the programmers and I worked closely on it together for a week to reorganize and change the program so it was stable and worked well. As a team, we got this part stable and were able to run a job of 200 without an adjustment or changing a tool. We went from a part that needed a lot of help to a stable process that will run great on the next setup."
Zach Mullen, 5-Axis Mill Cell Lead
---
Opportunities at Hirsh
Since joining the team, Zach's tenacity on and off the shop floor has paid off tremendously. When he joined Hirsh as a production machinist, he came in expecting to run parts and maybe progress to setups within a few years.
However, when you have a passion for something and it's something you enjoy doing, you study and learn about it, even outside of work. In Zach's case, his machining skills accelerated at a much higher rate, and within 9 or 10 months of stepping onto the floor, he was asked to be a cell leader.
Everyone learns and grows at a different pace, but Zach's story is a great example of how far you can advance your career if you have a strong work ethic and a passion for the work. If you want to accelerate your own development, Hirsh Precision is a great place to do that. There are systems in place to help you learn, and a culture that's designed to help team members grow and develop.
If you've ever considered a career in manufacturing, and whether or not Hirsh could be the right place for you, consider these words from Zach:
"After finishing a shift, I've never thought, 'wow, work was terrible, and I don't want to go back tomorrow.' This is something I love doing. I love the team, and love working with everyone…We hold ourselves to a pretty high standard at Hirsh, so take pride and enjoyment at what you're making here."
---
Hirsh Precision has a long history of providing high-quality manufacturing services across the Front Range area, and if you asked anyone on our team what's the secret to our success, they would tell you it's our team.
We're incredibly proud to have some of the most talented and dedicated machinists not just in Colorado, but in the country. It's their expertise and commitment to quality that's allowed Hirsh to provide its customers with industry-leading manufacturing services for the last 42 years.
If you're interested in working with a team like Hirsh and great people like Zach, click here!